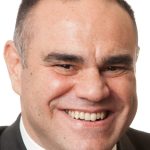 Alexandros has a Bachelors Degree in Accounting and Finance from The American College of Greece (Deree College).
He has almost 30 years of experience in the food industry in Greece and in the USA.
He has worked in food production, sales, promotions, marketing, branding, e-commerce, social media, imports, exports.
He has worked as a consultant in expanding sales as well as business development in the US Market for food and non-food products. Alexandros joined Sigma Catalyst Partners as Senior Advisor in January 2016 and is currently responsible for business development in export oriented food/agri products sector.